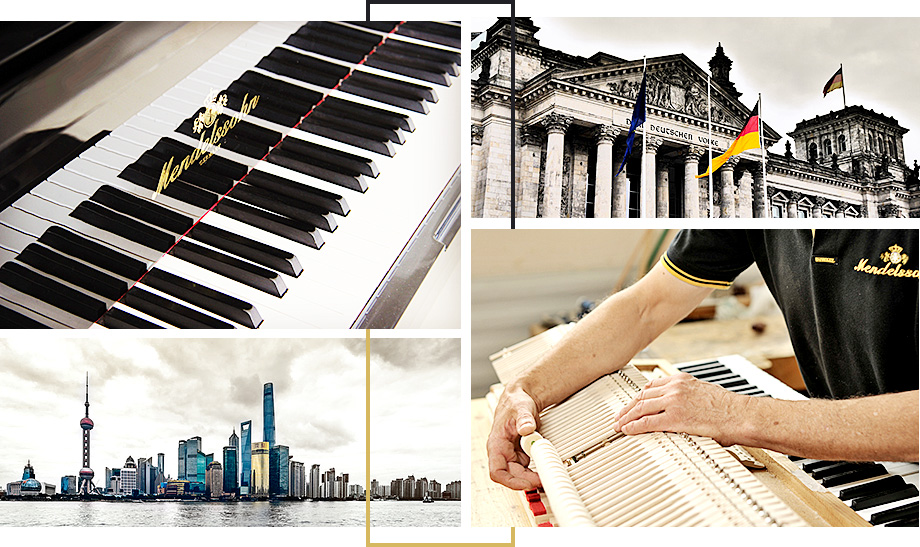 Mendelsohn Piano (Shanghai) Co., Ltd is a wholly foreign owned enterprise established by the German piano company of Mendelsohn. Mainly engaged in the production and sale of high-grade vertical and triangular piano. The company owns the "Mendelsohn (Mendelssohn)" and "cut Jarno (Trianon)" two big brands.
All along, we are committed to a high level of human resources reserve: rich management experience of various members of the senior leadership team, so we maintain efficient work style, has many years of on-site operation skills of all kinds of production technology backbone combined production system, so that we maintain a high quality industrial advantage; a large number of hard work, excellent marketing efforts, our products are exported to many countries and regions of the world.
Our products are manufactured in accordance with German technology: Mendelsohn piano company designed by the German producer, and by the German company regularly accredited senior management personnel, senior engineers and piano piano technicians on-site guidance work in Shanghai company. The company will combine the German company's business philosophy with Chinese culture, forming a "innovation, diligence, integrity, Thanksgiving" as the fundamental corporate culture.
With good business philosophy, advanced production equipment and strict quality control system, Mendelsohn piano production and quality in China has far exceeded the expected target. Produced by the Mendelsohn brand series, with its exquisite workmanship and excellent quality has aroused widespread concern in the world piano industry. And obtained a number of patents, such as: the pronunciation structure of piano sound source treble (Patent No.: 200620047880.9), vertical piano whole back frame (Patent No.: 201120134952.4), piano plate (Patent No.: 201130100325.4).
With the increase of Mendelsohn piano brand, which has become a pianist, music, film and television drama, piano competition with piano, such as: 2007 CCTV Chinese New Year concert film and TV series "super girl" (Li Yuchun, starring He Jie, 2010) in the Shanghai performing arts center, Expo Park......